Artificial Grass Tennis Court Construction
One of the most prestigious Grand Slam Tournaments System in the world is Wimbledon, and it is the oldest and most prestigious tennis tournaments, that is the only one played on grass.
Tin Nghia Company imports artificial grass only f-rom England, whe-re quality is guaranteed by manufacturer.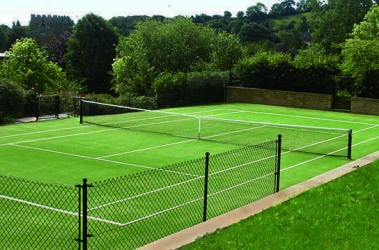 So, Artificial Grass Tennis Court that is constructed by Tin Nghia is standard, easy maintenance...The strong point of the grass court is no injuries, no limbs abrasions when saving the ball, allowing players jumping, falling or rolling on the grass that is the other courts couldn't do.
Contact us :
(+84) 942.113.207
Tennis Court Construction